Thanks to an exceptionally mild winter, upgrades to the east side trail of Tubbs Hill are well ahead of schedule. Initially, work was expected to be completed by June 30. Coeur d'Alene Trail Coordinator Monte McCully this week said work will be complete by the end of next week.
The project includes leveling slopes, smoothing the trail, eliminating outcrops, construction of retaining walls and placement of gravel in areas prone to puddle with water during wet conditions.
"It's been so warm and dry that we're are way ahead of schedule," McCully said. "The crews have been hitting it hard and are nearly finished."
Tom McTevia, a physically challenged Coeur d'Alene man, was instrumental in the improvements to the trail—which begin at the base of Tubbs Hill on the east end off 11
th
Street and continue up about 1,500 feet.
"These improvements will make such a big difference as far as accessibility for people who might otherwise not have been able to enjoy the beautiful trail," McTevia said.
McTevia first approached the city years ago to express the need to smooth the trail and make it more accessible to people of all ages and physical abilities.
The $50,000 project is funded with a $29,000 grant from the Idaho Department of Parks and Recreation and a $21,000 grant from Avista Corp.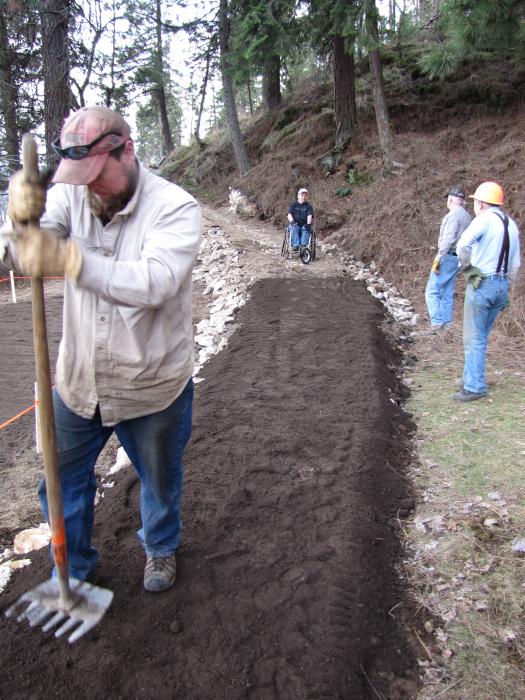 Photo: Tom McTevia, in wheelchair, ventures down the Tubbs Hill trail as crews from Trio Construction Inc. smooth the pathway.